---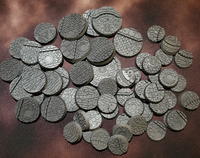 Imperial Walkway Round Bases - Cursed City Set - Nightwars
Elrik's Hobbies
All bases needed to base all miniatures for the game Cursed City Nightwars Expansion.
Qty (4) 40mm
Qty (1) 60mm
Qty (2) 60mm x 35mm
Product picture is a representation of the style of these bases.
The Imperial Walkway is the path to the palaces of old and new.  Whether your armies support the Imperium of Man,
 embrace the powers of the Iron Kingdoms
, are fighting in the streets of Europe or are engaging on Naboo, these bases bring a level of realistic grit and elegance to your force.  Flat designs allow for the beginning hobbyist to easily place their models on each base.  Varying brick patterns and damage details allow for a multitude of paint schemes for the advanced hobbyist.   
New design options with this baseline bring the first of upgradeable bases to Elrik's Hobbies.  Check out the upgrade packs available for customizing your army. 

As with all our products, these are designed and manufactured right here in the U.S. of A.
Remember, when working with resin (sanding, drilling, cutting, etc...) it is advisable to wear a mask to avoid inhaling the dust.
Painted items are for show only. You will receive new unpainted items that you order.