---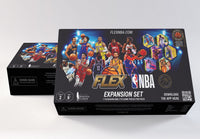 Flex NBA - Expansion Booster Packs
Flex NBA
Each Expansion Set includes one FLEX NBA Player Tile ("Flexagon") and 3 FX Tiles.  Look for chase-level Flex NBA Flexagons randomly inserted in these packs - Rising Star, Rookie, All-Star, All-NBA, or MVP versions of top players in the league!  New additions to the Series Two player roster or any new player art will be marked with a 'First Mint' badge in the 3D animation.  This notates that this is the first production Flexagon of this player.  All 'First Mint' Flexagons are produced with this badge just one time!
Check out the special 3D AR animations and register each Flexagon in the companion app.  Download it for FREE today on the Google Play or Apple App stores!  Each Flexagon has a barcode that is never repeated, making every one unique, and counterfeit resistant.  Collect all the players in series 2, including 42 players debuting here for the first time.  These new players include 30 first-round draft picks, potentially the stars of your team's future!
Return Policy:
Returns will be handled on an individual bases due to the nature of each item being unique and to ensure that the value of the product is protected.  NO RETURNS are allowed on opened packages.  
FULLY LICENSED BY THE NBA AND NBPA.